Seminar Working breakfasts | Tuesday February 18, 1997
Il y a soixante ans, Frank Davidson militait pour que les camps du Civilian Conservation Corps, réservés aux pauvres, soient ouverts à tous. En racontant cet épisode de sa vie, il retrace la mobilisation de presque trois millions de jeunes chômeurs, entre 1933 et 1942, pour des travaux d'utilité publique. Il décrit le fonctionnement des camps créés par Franklin Roosevelt dans le cadre du New Deal, les valeurs sous-jacentes, les rôles parfois inattendus qui s'y sont joués. Nombre de jeunes y ont appris un métier, l'encadrement militaire s'y est entraîné à la mobilisation de masse, et pour beaucoup ce fut la révélation d'une vocation profonde et durable au service d'autrui. Une telle expérience pourrait-elle être reconduite de nos jours en France ?
The entire article was written by:
Lucien CLAES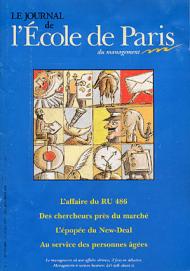 This session was published in issue n°6 of the Journal de l'École de Paris du management, entitled L'esprit de conquête .