Seminar Management of Innovation | Wednesday February 19, 1997
Pour profiter effectivement d'une implantation dans la Silicon Valley, une entreprise étrangère doit à la fois se faire accepter dans un réseau local qui repose sur l'estime, la confiance réciproque et l'adhésion à un style bien particulier, et d'autre part intégrer cette enclave atypique dans ses propres structures. Le débat explore les conditions de réussite de cet exercice acrobatique et les fondements de la culture de la Silicon Valley.
The entire article was written by:
Gérard DRÉAN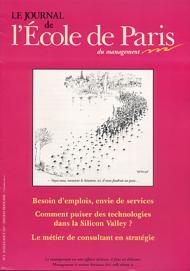 This session was published in issue n°5 of the Journal de l'École de Paris du management, entitled Le rêve et la raison .