Seminar Business life | Friday March 9, 2007 - 9h30 - 12h
La libre circulation des services est l'une des quatre libertés fondamentales du traité de Rome et les services sont aussi un enjeu économique et social majeur car ils représentent plus de 70 % du PIB et de l'emploi de l'Union européenne. Au début des années 2000, ils marquaient en Europe un ralentissement de productivité. Dans le même temps, la directive concernant leur libéralisation était en gestation dans le prolongement de la stratégie de Lisbonne. Elle ne fut adoptée qu'après de multiples péripéties et de nombreux amendements, et entrera en vigueur au plus tard en 2009. Certains secteurs en sont exclus, comme celui du travail temporaire, pourtant freiné par les réglementations propres à chaque pays. D'autres comme celui de l'ingénierie font face à un marché tellement fragmenté que la directive ne peut avoir que des effets limités. Quant à celui des services informatiques, la directive ne lui apporte aucun secours face à la marée indienne qui le menace. Ce sont les PME qui devraient profiter le plus de cette directive, à condition de se tourner délibérément vers le marché européen, et parfois d'opérer les regroupements pour atteindre une taille leur permettant d'innover davantage.
The entire article was written by:
Jacques BERTHIER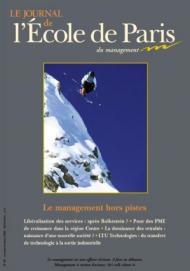 This session was published in issue n°69 of the Journal de l'École de Paris du management, entitled Le management hors pistes.