Seminar Management of Innovation | Wednesday October 16, 2002
Archilab is a centre for innovation which regroups a multidisciplinary team organised around the projects of its industrial clients on a single platform. The core of its activity is to explore opportunities for innovation by the use of a very structured and rational approach based on the analysis of scenarios where the innovations are put to use. The economic model used is an industrial model, based on sharing out wealth which is generated, rather than a consulting model which offers several services. Contrary to the romantic concept of what an innovation is, based purely on inspiration or the modern mythof creativity, Archilab's approach has already started to have good results with respect to equipment and consumer products.
The entire article was written by:
Élisabeth BOURGUINAT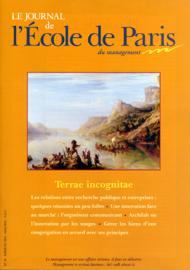 This session was published in issue n°41 of the Journal de l'École de Paris du management, entitled Terrae incognitae .