Seminar Technological resources and innovation | Wednesday April 25, 2007 - 8h45 - 10h45
Google appeared on the Internet for the first time less than ten years ago. Its search engine, which is financed by advertising is very efficient and attracts an increasing number of Internet users and consequently advertisers. This powerful organisation has developed and been enhanced by an increasing number of sites which are sources of even more information and are used with increased frequency. Today, Google is the leading Internet search engine. It continues to grow due to the creativity of its engineers and the efficiency of its technology. Management relies on the comments and assessment by their staff in choosing the best projects and completing them successfully. This takes place very discretely because Internet users, via an informal network, spread the word about successful innovations. However, one must be very vigilant because there are ethical and legal issues, competition is rife, the market is changing and bureaucracy threatens. Will Google be able to maintain its course ?
The entire article was written by:
Yves BRETON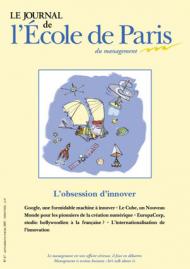 This session was published in issue n°67 of the Journal de l'École de Paris du management, entitled L'obsession d'innover.