Seminar Crisis and change | Friday September 13, 1996
La création d'entreprise évoque généralement un entrepreneur déterminé à la tête d'une affaire prospère en développement rapide. Ces cas exceptionnels masquent la réalité de la majorité des créateurs qui s'efforcent de maintenir à flot leur entreprise individuelle. La moitié de ces entreprises disparaissent avant cinq ans. Les politiques publiques d'aide à la création, le conseil et l'accompagenement des créateurs doivent être adaptés à ce public fragile pour améliorer le taux de survie des nouvelles entreprises et contribuer significativement à la création d'emploi.
The entire article was written by:
Sylvie CHEVRIER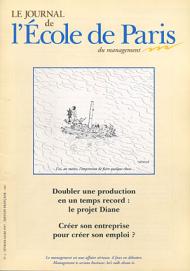 This session was published in issue n°2 of the Journal de l'École de Paris du management, entitled Un carrefour de débats .