Seminar Social life | Friday April 11, 1997
Accueil et Service permet le maintien à domicile de personnes âgées semi-dépendantes ou dépendantes. Cette association fait travailler ensemble quatre-vingt cinq salariés et quatre cents bénévoles autour de principes et d'objectifs partagés : priviliégier la dignité de la personne, offrir à tous la même qualité de service, innover, coopérer avec les autres partenaires du social, valoriser le travail des bénévoles. Selon Benoît Masurel, il peut y avoir synergie entre secteur marchand et secteur associatif : le premier apporte rigueur administrative et souci de rentabilité ; le second apporte une préoccupation constante de qualité des relations humaines. Des associations comme Accueil et Service peuvent même, dans ce secteur, servir de "locomotives" dans la mise en place de services de qualité, qui créent, à terme, de nouveaux emplois, et inventer de nouveaux rapports entre production économique, vie sociale et production du sens.
The entire article was written by:
Élisabeth BOURGUINAT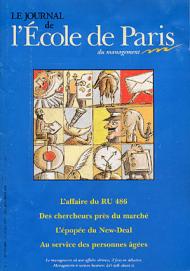 This session was published in issue n°6 of the Journal de l'École de Paris du management, entitled L'esprit de conquête .