Seminar Social life | Thursday April 26, 2007 - 9h - 11h30
À quoi sert l'ONU ? On se le demande souvent devant les conflits qui ravagent le monde. N'est-elle pas paralysée par son manque de moyens d'intervention, sa lourdeur bureaucratique, la prolifération de ses organismes associés et le droit de veto des membres du Conseil de sécurité ? Ces questions préoccupent Stéphane Hessel depuis la création de l'ONU (Organisation des Nations unies), où il fut fonctionnaire de 1946 à 1950, période durant laquelle il participa notamment à la rédaction de la Déclaration universelle des droits de l'homme. Il a ensuite alterné des fonctions en poste, au Quai d'Orsay et à l'ONU, où il a été ambassadeur de la France de 1977 à 1981. Membre de la Commission des droits de l'homme depuis 1990, il a été plusieurs fois sollicité pour rédiger des rapports sur la réforme de l'ONU. Fin connaisseur des différentes facettes de cette organisation, il est lucide sur les réformes qui pourraient lui conférer un rôle adapté à la situation actuelle.
The entire article was written by:
Élisabeth BOURGUINAT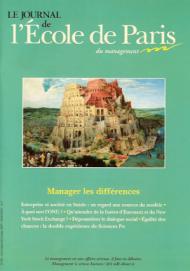 This session was published in issue n°68 of the Journal de l'École de Paris du management, entitled Manager les différences.