Seminar Guest speakers | Monday October 7, 1996
Projects are now seen to be the prerequisite for company survival. A great number of changes regarding project organisation have been made since the Golden Age of engineering in the 1960s. In industry, one of the important new ideas is the need to generate new demans which hitherto have not been met, and to consider the acceptability of a new product by a varied clientele. This change in project management is accompanied by other equally profound changes due to increased knowledge and use of experts, for example in the pooling of achievements.
The entire article was written by:
Lucien CLAES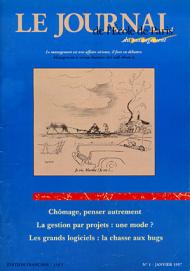 This session was published in issue n°1 of the Journal de l'École de Paris du management, entitled Pourquoi un journal ? .